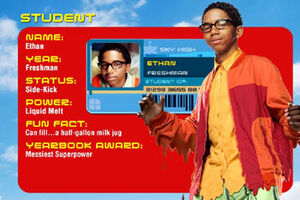 Ethan is one of the main characters in Sky High. He is one of Will Stronghold's friends, and a sidekick. He is portrayed by Dee Jay Daniels.
Ethan has the power of shapeshifting, into a orange puddle when he transformed into a orange puddle people can slip on him also Ethan his able to Fill a half a milk jug Ethan has the messiest superpower ever ethan is also smart
Appearance
Edit
Ethan is an African-American male. He wears glasses, and prefers button-up skirt and sweaters.
Personality
Edit
Ethan is a smart young man, but also quiet and personable. He was quick to stand with the other sidekicks in defense of Will, when he was being attacked by Warren Peace. Unfortunately, he was also quickly targeted by Lash and Speed, who liked bullying him by doing things like locking him in lockers and giving him swirlies.
Ad blocker interference detected!
Wikia is a free-to-use site that makes money from advertising. We have a modified experience for viewers using ad blockers

Wikia is not accessible if you've made further modifications. Remove the custom ad blocker rule(s) and the page will load as expected.