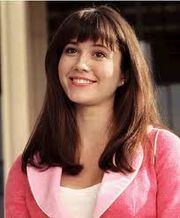 Mary Elizabeth Winstead is an American actress who played Gwen Grayson in Sky High.
Born on November 28, 1984 in Rocky Mount, North Carolina, her first major acting appearance was in the stage play, Joseph and the Amazing Technicolor Dreamcoat, which starred Donny Osmond. Ms. Winstead's breakout role was in fact her appearance as Gwen Grayson in Sky High.
Since that time, she has appeared in many stage, movie and television productions, most recently in the 2018 dark comedy, All About Nina.
External Links
IMDB = https://www.imdb.com/name/nm0935541/
Wikipedia = https://en.wikipedia.org/wiki/Mary_Elizabeth_Winstead